Galena further strengthens its Quality Assurance team!
We are excited to introduce Kaisa, a skilled pharmacist and hands-on QA professional joining our Quality Assurance team with a wealth of experience and expertise. Read Kaisa's interview below to learn about her journey at Galena Pharma. 
How has it been working at Galena this far?
My time at Galena has been remarkable. The team's warm welcome and exceptional working environment have set the stage for a fulfilling experience. The work is both exciting and gratifying, and a continuous learning curve keeps me engaged.
Most importantly, Galena is a reliable and versatile operator with a forward-looking approach that promises challenging tasks and rich ground for my professional growth.
How do you plan to support customers?
As a QA Specialist, I aim to ensure that Galena's products and processes uphold the highest quality and safety standards while adhering to all regulations.
My tenure in the pharmaceutical industry —particularly in quality control— has equipped me with a discerning eye for detail and dedication to upholding excellence. My plan to support customers involves three fundamental principles: stringent quality assurance, regulatory compliance, and continuous improvement.
My solution-oriented mindset and optimistic approach align seamlessly with Galena's ideology and its commitment to innovation and delivering value to our customers.
Other than work, what keeps you busy?
Beyond my commitment to quality, I find solace in the serenity of the countryside, where a spacious yard offers endless avenues for creativity. Exploring the woods with our two dogs is a cherished pastime that connects me with nature's beauty.
With a background in bio-pharmacy and biotechnology, my passion for ensuring the safety and quality of pharmaceutical products has led me to this dynamic role. I am happy to join this organization where I could combine my education and passion to create value for our customers, partners, and consumers; Kaisa signs off.
---
What makes Kaisa valuable for Galena and its customers?
✅ Diverse Expertise: Kaisa's educational background in bio-pharmacy and biotechnology equips her with a unique blend of scientific knowledge spanning pharmaceuticals and quality control, allowing her to navigate precisely through complex challenges.
✅ Passion for Excellence: Having spent five impactful years in pharmacy, Kaisa understands the vital connection between products and consumers. Her commitment to upholding the highest quality standards aligns perfectly with Galena's customer-centric values.
✅ Proactive Mindset: As a proactive QA Specialist, Kaisa identifies issues and drives innovative solutions. Her optimistic "can-do" attitude and her experience in quality control positions her to catalyze continuous improvement across products and processes.
You can connect with Kaisa to explore collaboration opportunities or tap into her know-how in Quality assurance.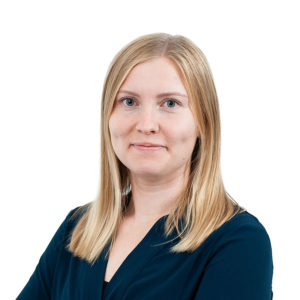 Kaisa Koukkari
QA Specialist
kaisa.koukkari (at) galena.fi
Stay connected with us on LinkedIn for the latest industry news and updates.