Galena Pharma is one of the leading pharmaceutical companies specializing in developing, manufacturing, and life cycle management of pharmaceuticals, medical devices, and health products. Galena offers client-tailored solutions to the unique requirements of our clients during the entire product lifecycle so that our clients can comprehensively focus on selling and marketing their products.
Download our brochure to learn more about our services and go-to-market products.
WE CAN HELP YOU WITH THE FOLLOWING:
Product development- Galena can support clients throughout the product life cycle from ideation to market launch. Our experienced team can help you formulate complex products, offer product line extensions and product upgrades, provide analytical services, and assist in marketing authorization. Learn more.
Private label products– Galena has a wide range of fully formulated products for our clients. We provide you with an array of new and innovative finished products, such as medical devices, cosmetics, or health products, to your portfolio. Also, we can expand and customize our product range to suit your market needs. Learn more.
Manufacturing and packaging– Modern technology, highly efficient & diverse equipment, and timely deliveries make Galena a reliable manufacturer. Our packaging line offers various packing options and materials for clients' unique product requirements—cost-effectively and ecologically. Learn more or watch our manufacturing videos here!
Contact our expert directly or fill out the contact form and we will take it from there.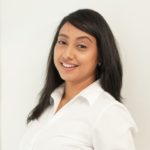 Sudipta Chatterjee
Sales and Marketing Manager
sudipta.chatterjee@galena.fi